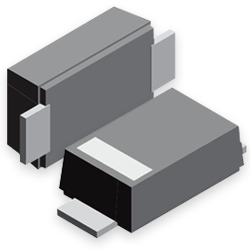 Vishay Semiconductor VTVS5V0ASMF to VTVS63GSMF 400W TransZorb® Transient Voltage Suppressor (TVS) Diodes
Vishay Semiconductor VTVS5V0ASMF to VTVS63GSMF 400W TransZorb® Transient Voltage Suppressor (TVS) Diodes Designed for Laptops, Notebooks, Smartphones & Tablets
NORTHVALE, NEW JERSEY, 07647, February 16, 2018 /EINPresswire.com/ — NORTHVALE, NEW JERSEY, USA – New Yorker Electronics has announced the release of the entire Vishay Semiconductors VTVS Series of 400W TransZorb® Transient Voltage Suppressor (TVS) Diodes, from VTVS5V0ASMF to VTVS63GSMF, in the SMF Package. The Series was also named a 2017 Vishay Super 12 Featured Product.
With their low 1mm profile, low-noise technology, and very fast response times, the devices released by New Yorker Electronics are ideal for line transient voltage protection in space-constrained electronics. This includes laptops, notebooks, tablets, smartphones and external hard drives.
The VTVSxxASMF series and the VTVSxxASMF feature voltages from 8.9V to 108V with breakdown voltage tolerances of 2% or 5% available. The TVS offer a peak pulse current from 2.9A to 20.3A, excellent clamping capability from 14.8V to 103.5V, low incremental surge resistance and operating temperatures from -55°C to +175°C.
The protection diodes provide ESD capability of ± 30 kV (air and contact discharge) in accordance with IEC 61000-4-2, support high-temperature soldering to 260°C / 10s at their terminals and meet the MSL Level 1 standard per J-STD-020. The AEC-Q101-qualified devices are RoHS-compliant, halogen-free and Vishay Automotive Grade.
Features & Benefit:
• Breakdown voltage tolerance down to 2%
• SMF package with low profile of 1mm
• High surge capability of 400W 10/1000µs
• Peak pulse current from 2.9A to 20.3A
• Vishay Automotive Grade; AEC-Q101-qualified
• RoHS-compliant and halogen-free
• High surge current
• Operating temperature: -55°C to +175°C
• Tolerance: ±5% for VTVSxxxA; ±2% VTVSxxxG…
• "Low-Noise" technology with very fast response time
Applications:
• Laptops
• Notebooks
• Tablets
• External Hard Drives
New Yorker Electronics is a franchise distributor for Vishay Semiconductors and carries the full line of 2017 Vishay Super 12 Featured Products as well as its complete line of discrete semiconductors (diodes, MOSFETs and infrared optoelectronics) and passive electronic components (resistors, inductors and capacitors).
ABOUT NEW YORKER ELECTRONICS
New Yorker Electronics is a certified franchised distributor of electronic components, well known for its full product lines, large inventories and competitive pricing since 1948. New Yorker Electronics is an AS9120 and ISO 9001:2015 certified source of capacitors, resistors, semi-conductors, connectors, filters, inductors and more, and operates entirely at heightened military and aerospace performance levels. It also functions in strict accordance with AS5553 and AS6496 standards — verifying that it has implemented industry standards into everyday practices to thwart the proliferation of counterfeit parts. It is a member of ECIA (Electronics Component Industry Association) and of ERAI (Electronic Resellers Association International).
Emme Pappas
Northvale
2017501171
email us here

Source: EIN Presswire